Motor Boat
Here is a swell little motor boat that you can make very easily from the top of any cigar box or with any other very thin piece of wood.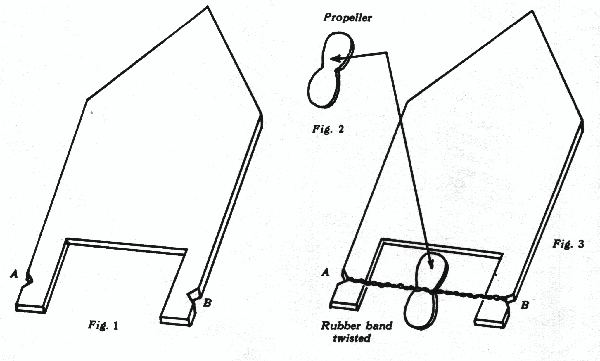 What You'll Need
1. Top of a cigar box or thin piece of wood
2. Knife or scissors (make sure a parent helps!)
3. Rubber band
How To Do It
Step 1
All you need to do is cut the piece of wood as shown in the drawing making a notch in each side as indicated in A and B of the drawing.
Step 2
Now make a little separate propeller, shown in Figure 2 and, after placing a rubber band from A to B, twist the propeller around and around until it is 'wound up' (Fig. 3)
Step 3
Place the boat in a bath tub of water. As soon as you release the propeller you'll see this boat scoot all over the place and the tighter you wind it the farther it will travel.